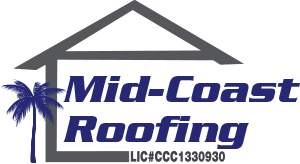 With over 25 years of experience, the professionals at Mid Coast Roofing, Inc. are the solution to all your roof repair and replacement needs. We take great pride in our professionalism, timeliness, and superior customer service on every job.  Our goal is to develop a lasting relationship, so there will be no question who you call the next time you need a roof repair or replacement. Referrals are our number one source of new customers.
Mid Coast Roofing is a family company owned by Lakewood Ranch resident Jim Keffer.  Jim began his career as an attorney in Cincinnati.  After 15 years he realized he didn't like lawyers or being inside all day, so he opened the first branch office of a regional roofing company.  Nine years later, he realized he didn't like the cold, so he and his family relocated to Lakewood Ranch, and he hasn't seen a snow shovel since.
We proudly serve all areas of Sarasota County and Manatee County, including Bradenton, Sarasota, Lakewood Ranch, Parrish and Venice, and all areas in between.