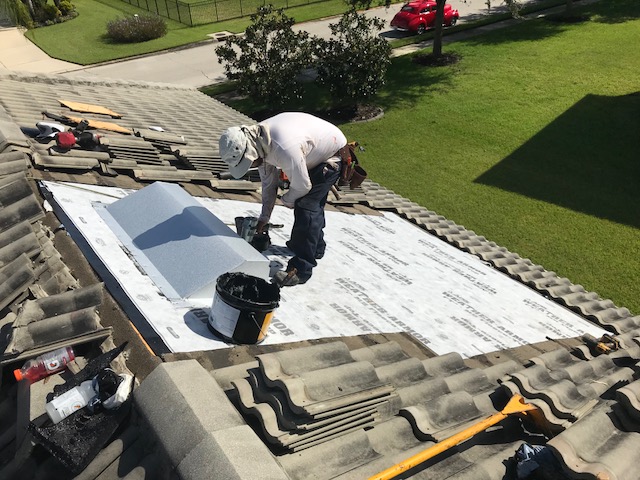 The roof is a crucial part of the home. While it protects you and your family, it adds to your home's aesthetic value. Hence, you want to have your roof properly installed.
This is why it is important to hire a professional residential roofer for your next roofing project in Florida, be it a roof repair or replacement. 
However, while hiring a roofer, you will come across many different roofing contractors claiming they are good at what they do and that they will reroof your home professionally. While this may be true for some, there are other always a few roofing contractors that are only about the money and are not very supportive after they are hired. 
But how do you know a professional roofing contractor?
This blog post explains what to look for when hiring a residential roofing contractor in Florida:
Ask For Their Licenses
The first thing to check for when hiring a roofing contractor is their license. Are they licensed?
A professional roofer is one who has undergone the required training and is certified and licensed to carry out roofing projects in their respective regions. Hence, asking for your prospective contractor's license will help you know if you can trust them with your property.
When hiring a roofer in Florida, besides the licenses, also check for insurance coverage and certifications. A roofing contractor that prioritizes high-quality work should have insurance coverage, which will help protect you should any hazard occur during the project.
Certifications show that the roofing contractor went through professional training by the manufacturer to install their materials, which helps extend your warranty. 
Ensure They Offer the Needed Service
Here is an important question to ask a roofing contractor you are about to hire: what services do they offer? Roofing services vary from one contractor to another. While some roofers specialize in roof repair, some roof replacement, others focus more on roof cleaning and debris removal. When hiring, It is your duty to question your prospective roofer about their services. 
Also, asking your roofing contractor about the residential roof types they work with is important. If you are installing a metal roof, ask if they install metal roofing. And if tile roofing is your preference, ensure your contractor specializes in it. 
Are They A Residential Roofing Contractor In Florida?
Another factor that distinguishes roofing contractors is the type of property they work with. While some Florida roofing contractors only take commercial roofing projects, some specialize just in residential roofing, and others have the versatility to install and repair commercial and residential roofs.
Since you are hiring a roofer for your residential property, hire a trained residential roofing contractor with proof to support their claim. Mid-Coast Roofing focuses solely on residential roofing services.
Check Reviews
When interviewing a roofing contractor to hire for your next residential roof replacement or repair project, ask them for reviews about their past work. Reviews are votes of confidence given by past customers that show their level of satisfaction with the contractor's job and will help you weed out bad roofers.
A professional roofer should have a website displaying their past customers' reviews. Go to their website and check what their past customers said about them. If you notice numerous negative ratings that overwhelm the positive ratings, it makes sense to move on to another roofer. Ratings also give you an idea of how well the roofer handles a situation that may have not gone as expected.
While it should be a rare occurrence, mistakes can happen in roofing projects given the number of people working in conjunction on the same project at the same time. The best roofing crews work together on a daily basis and work far more symbiotically than crews pieced together as needed. Many of our crew members have been with us since the very beginning and are kept busy every weekday. For that reason, our quality control is better than other roofers that may not be busy enough to support full-time crews.
Seeing completed work by your roofer will also give you an idea of how good they are at the services they offer.  
Hire Local Contractors within Florida
One big mistake you should avoid when hiring a roofer is hiring a roofer outside your area. Most homeowners who have done this regretted their decision, as it resulted in wasted money and problems down the road. 
Save yourself this headache by avoiding storm chasers from outside Florida. Storm chasers come into town when they have news of a storm in your area. When they come, they quickly blanket the area doing door-to-door campaigns claiming you could get a free replacement roof. Well, you know the old saying – If it seems too good to be true, it probably is. Even if they manage to get you that replacement roof for free, someone is paying for it. If they can't get your insurance to cover it, that someone will end up being you. Storm chasers are almost entirely responsible for Florida's massive homeowner's insurance crisis.
When you hire them, you only see them while they perform the work. Once the project is completed, you may never see them again. Unfortunately, if your roof begins to have issues due to shoddy workmanship, and you call them, they may not answer, resulting in spending more money for roof repairs that should never have been necessary in the first place. What good is a warranty if the roofing company is unresponsive?
Before you consider any roofing company for your roof repair or replacement, it is important to vet them properly and get estimates before entering into an agreement. Hire a Florida-based licensed and insured residential roofing contractor, like Mid-Coast Roofing. While have never and never would participate in storm chasing, we will certainly work with your homeowner's insurance if they are willing to cover your roof repair or replacement. We always prioritize our customers, and that is why our customers have made us a top-rated roofer in the area.
Safety Matters
The phrase "safety first" also applies in hiring a roofer, which should be one of the questions you ask your roofer before awarding your project to them. What are their safety procedures, and how do they enforce them?
If your roofer has no safety plan regarding the crew members working on your property, you have enough reason to be skeptical about them. You certainly don't want anyone injured on your property. In Florida, all roofer are required to have Worker's Compensation insurance coverage. You can see if a roofer has proof of coverage here.
Ensure They Have Supervision Onsite
Your project needs thorough supervision, and you need your contractor to assure you there will be a project manager, foreman, or supervisor in charge of your project. You need someone you can communicate with during the project who also monitors the crew's performance.
Some contractors will only send a crew to carry out your project, and you may find it hard to communicate with them. But if they come with someone in charge, you have a direct line of communication during and after the project.
Also, having a supervisor around means the roofing crew is always on their toes and far less likely to make a mistake. 
Ask For Estimates and Compare
Asking for a free estimate is also a great means to know if you will be hiring the roofing contractor seating before you or not. Ensure you interview at least a couple of roofers and compare their quotes. While an outrageously high quote is a red flag, avoid extremely low quotes as they often mean lower-quality workmanship. High-quality work involves premium materials, hence the higher quote. This is why you should really think twice about "saving a few bucks" when it comes to such a critical part of your home.
Most of the time, beginner contractors quote low-quality materials to catch the attention of homeowners and win the job. This results in a poor long-term outcome for your roof and spending more on repairs.
Conclusion
Hiring a professional contractor is crucial to having your roof properly installed. Having a professional install your roof ensures you and your family are always safe under your roof. 
Are you ready to hire a residential roofer? Mid-Coast Roofing is ready to take on your roof repair or replacement project. You can schedule a free estimate here or call us at (941) 780-8713.